VOD Augustus 2022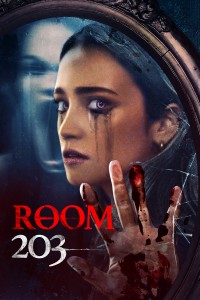 Horror

Beschikbaar voor VOD: 4 augustus 2022

Regie: Ben Jagger

Cast: Francesca Xuereb, Viktoria Vinyarska, Eric Wiegand, Scott Gremillion
Wanneer BFF's Kim en Izzy hun intrek nemen in Room 203, een flat met een onheilspellend middeleeuws glasraam, raakt Kim er steeds meer van overtuigd dat de plek bezeten is. Nadat ze samen met haar nieuwe vriend in het verleden begint te graven, komt de gruwelijke – en oeroude –voorgeschiedenis aan het lichtt.

Psychologische problemen, louche huisbazen, kraaien en amuletten, oeroude demonen … Room 203, gebaseerd op de gelijknamige Japanse horrorroman, heeft het allemaal en zorgt met de nodige spanningsopbouw en jump scares voor een memorabel genrepareltje.
Reviews
Aiptcomics.com: Adaptation of J-Horror novel brings tension & scares. Accomplishes exactly what it needs to.
Bandsaboutmovies.com: Jagger invests the film with a brooding, eerie atmosphere, though, serving up some solid visuals and suspenseful set pieces.
Battleroyalewithcheese.com: an original adaptation which firmly sets the scene.
Dennisschwartzreviews.com: It's indie film smart. The production values are solid. The acting is on the money.
Fearsmag.com: Skillfully scripted and features some excellent visuals.
Filmcarnage.com: Builds a sinister, creeping darkness, and holds a great tension in its chilling moments.
Highonfilms.com: A gripping tale that ebbs and flows between being a teenage drama and a thrilling horror movie.
Reelreviews.com: gets a lot of its intensity from the atmosphere it creates as something is still alive within the walls!
Scariesthings.com: A solid new entry in the apartment horror sub-genre.
Searchmytrash.com: A very cool piece of slowburn haunted house type horror that really has all the mystery and all the scares in all the right places.
Vsmoviepodcast.com: Room 203 is a highly enjoyable, effective horror/thriller.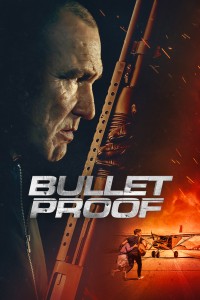 Actie

Beschikbaar voor VOD: 19 augustus 2022

Regie: James Clayton

Cast: Vinnie Jones (Snatch, Hijacked, X-Men: The Last Stand), James Clayton (Minority Report (TV)), Lina Lecompte, Janvier Katabarwa (Cold Pursuit)
Een kruimeldief denkt de slag van zijn leven te slaan door de gestoorde drugsbaron Temple te bestelen. Tot hij in de kofferbak van zijn vluchtauto een verstekeling aantreft: Temples zwangere vrouw. Dat stelt de eenling voor een verscheurend dilemma: verdwijnen met de buit of haar redden uit de klauwen van haar gewelddadige man.

Bullet Proof is een rechttoe rechtaan achtervolgingsthriller met verbluffende actiescènes, zwarte humor, spitse oneliners en, uiteraard, de onnavolgbare X-factor van genre-icoon Vinnie Jones. Hoofdrolspeler James C. Clayton schreef en regisseerde overigens zelf de film.
Reviews
Moviesreview101.com: It isn't afraid to go in all guns a blazing for later fights. The car chases are solid and the fights involving The Frenchman are the highlights.
Cultfollowing.co.uk: Jones grits his teeth, saunters about and beats up henchmen as though he were back on the streets of London. Gives Jones and James Clayton a place to play ball.
Markreviewsmovies.com: Jones is effectively imposing as the seemingly unstoppable threat.
Voicesfromthebalcony.com: a good deal of action.
Themailnewspapers.com: sit back and enjoy the crazy.