VOD July 2023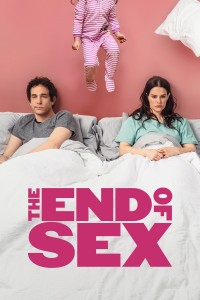 Comedy, Romantic Comedy

Available on VOD: 6 juli 2023

Director: Sean Garrity

Cast: Jonas Chernick (The Border, Degrassi, An Awkward Sexual Adventure), Emily Hampshire (Schitt's Creek, Mother!)
A married couple is making increasingly wild attempts to recapture the magic of their now-routine marriage. Husband Josh and his wife Emma have an empty house for one week. With their daughters off at a winter-break sleepaway camp, they attempt to recapture the magic of their now-comfortable marriage with increasingly wild developments, kicking off with a less-than-satisfactory marital romp and a run-in with a couple they know who are separating.
Reviews
Digitaljournal.com: Funny because it feels so true. Does an excellent job of embracing and showcasing the humour of their situation. Chernick and Hampshire deliver excellent performances, nailing the chemistry essential to the narrative's success, as well as exhibiting spot-on comedic timing.
Screenzealots.com: Finds humor in clumsy sexual encounters and increasingly uncomfortable situations. Impeccably cast, with believeable actors playing equally credible characters.
Skonmovies.com: Harmless fun about a couple trying to spice up their marriage.
Shockya.com: Fun and provides a humorous look at the way that marriage, and any relationship, can change over time.
Solzyatthemovies.com: This is the sort of film where the comedy just writes itself, especially with the situations that they find themselves in. A proven winner for any distributor acquiring the film out of Toronto (!)
Thatshelf.com: Chernick and Hampshire display great chemistry throughout. Their performances allow the characters to feel like relatable people rather than caricatures. A sharp and refreshing comedy, The End of Sex is a perfect date night flick.