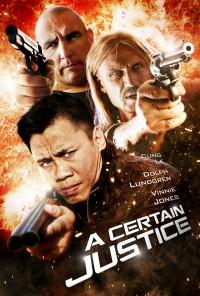 Action

Available on VOD: 3 juni 2014

Director: Giorgio Serafini

Cast: Cung Le (The Man with the Iron Fists, Dragon Eyes, Tekken), Briana Evigan (Step Up 2: The Streets, Sorority Row, Step Up 5), Dolph Lundgren (The Expendables 1/2, Universal Soldier, SAF3), Vinnie Jones (Snatch, Hijacked, X-Men: The Last Stand)
After returning home from a traumatic tour of duty in Iraq, John finds himself struggling with PTSD. What little peace he had managed to build around him is shattered one fateful day when he rescues a local call girl from a group of violent Aryan Brotherhood pimps. Having killed several of the high-ranking brotherhood during the rescue, John and his family are now the prime targets of Hollis, the ruthless criminal leader of the group.
Reviews
1nfluxmagazine.com: There is no shortage of action in Serafini's latest offering, which is never a problem with the directors films: An enjoyable action film, this will keep you entertained.
TheActionElite.com: if you're looking for a Hard R, adult oriented revenge story then you'll have a blast with A Certain Justice. With a stand-out performance from Dolph and surprisingly developed characters, A Certain Justice goes for the jugular and doesn't apologize for it.
Examiner.com: Delivers exactly what it sets out to do, an old school martial arts revenge flick. Cung Le is bringing new blood to the game and is clearly ready to deliver the sidekick to the industry like only he can.
DVDTalk.com: fast paced, reasonably well acted, plenty violent and generally solid entertainment.
AlienBee.net: a pretty cool action flick with a good story and exciting action scenes.