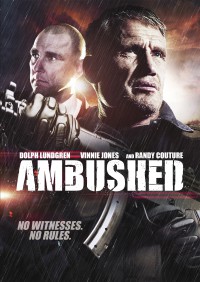 Action, Crime

Available on VOD: 8 april 2014

Director: Giorgio Serafini

Cast: Daniel Bonjour (Allan Quatermain and the Temple of Skulls), Carly Pope (Textuality, Young People Fucking, Elysium), Gianni Capaldi (A Certain Justice), Dolph Lundgren (The Expendables 1/2, Universal Soldier, SAF3), Randy Couture (The Expendables 1 & 2), Vinnie Jones (Snatch, Hijacked, X-Men: The Last Stand), Susie Abromeit (World Invasion: Battle Los Angeles)
In the frenetic underbelly of Los Angeles, Agent Maxwell closes in on an international cocaine smuggling operation run by criminal mastermind Vincent Camastra. When Agent Beverly Royce goes undercover with the drug dealers and finds herself deeper then she can handle - the case becomes personal for Maxwell who has to combat ruthless killers and dirty cops in an all-out action filled finale to bring the criminals to justice.
Reviews
1nfluxmagazine.com: Entertains from beginning to end. Kudos to the director on this one.
Bringthenoiseuk.com: An entertaining action film. We enjoyed Ambushed; there was action, drama and a healthy dose of reality.
Dansmoviereport.blogspot.nl: the action and interplay between Vincent and Eddie make for a fun 90 minutes.
Silverscreenslags.com:

Ambushed

is a slick slice of B-Movie action that is perfect for an evening of switching off and relaxing. Serafini directs with an understated professionalism and there are enjoyable performances from Bonjour and Capaldi, as well as higher-profile stars Couture, Jones, and Lundgren.
Blu-ray.com: enjoyable character dynamics, decent performances, a fair pacing, and a plot that isn't needlessly complicated
DVDTalk.com: it ups the sex and violence factor enough that, with a few okay twists thrown in, it's a fine pizza and a six pack movie.. Rent it.
The-Other-View.com: "Ambushed is an intricate web of greed, loyalty, and betrayal, linking together multiple characters and stories into one climatic and explosive ending."
DansMovieReport.blogspot.nl: the action and interplay between Vincent and Eddie make for a fun 90 minutes.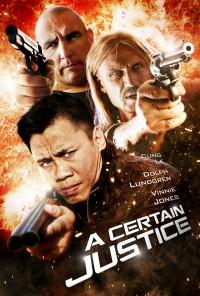 Action

Available on VOD: 3 juni 2014

Director: Giorgio Serafini

Cast: Cung Le (The Man with the Iron Fists, Dragon Eyes, Tekken), Briana Evigan (Step Up 2: The Streets, Sorority Row, Step Up 5), Dolph Lundgren (The Expendables 1/2, Universal Soldier, SAF3), Vinnie Jones (Snatch, Hijacked, X-Men: The Last Stand)
After returning home from a traumatic tour of duty in Iraq, John finds himself struggling with PTSD. What little peace he had managed to build around him is shattered one fateful day when he rescues a local call girl from a group of violent Aryan Brotherhood pimps. Having killed several of the high-ranking brotherhood during the rescue, John and his family are now the prime targets of Hollis, the ruthless criminal leader of the group.
Reviews
1nfluxmagazine.com: There is no shortage of action in Serafini's latest offering, which is never a problem with the directors films: An enjoyable action film, this will keep you entertained.
TheActionElite.com: if you're looking for a Hard R, adult oriented revenge story then you'll have a blast with A Certain Justice. With a stand-out performance from Dolph and surprisingly developed characters, A Certain Justice goes for the jugular and doesn't apologize for it.
Examiner.com: Delivers exactly what it sets out to do, an old school martial arts revenge flick. Cung Le is bringing new blood to the game and is clearly ready to deliver the sidekick to the industry like only he can.
DVDTalk.com: fast paced, reasonably well acted, plenty violent and generally solid entertainment.
AlienBee.net: a pretty cool action flick with a good story and exciting action scenes.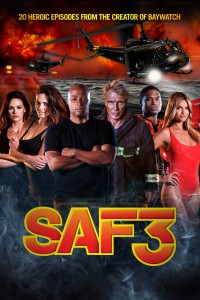 Action, Drama

Available on VOD: TBA Q3 2014

Cast: Dolph Lundgren (The Expendables 1/2, Universal Soldier, SAF3), J.R. Martinez (All My Children), Texas Battle (The Bold and the Beautiful, Dragonball Evolution, Coach Carter), Lydia Hull (Van Wilder, Escape Plan 2), Jocelyn Oscorio, Travis Burns, Katie Meehan, Danielle Anderson
Co-created by Gregory J. Bonann (Creator of Baywatch) who also serves as Executive Producer, the series follows Southern California's elite multi-agency task force, SAF3, which consists of the cream-of-the-crop from Los Angeles Lifeguard, Firefighter and Coast Guard agencies. They are the heroes who answer the most challenging calls. Specialists who collaborate, coordinate, and initiate daring rescues in the most dangerous venues (air, fire, water) to save human life.
Each episode will center on big-action rescues involving all three services lead by a reluctant leader, Lifeguard John Mathews, who has stepped in for his mentor and friend. The agency is the brainchild of Hal Dunnigan (Mathew's mentor) who dies heroically in the first episode saving a life.The inter-agency cooperative effort will not be without its challenges, but will provide for extremely dramatic personal conflict and still yield an effective and efficient public service. There is enormous competition between them as they uphold the pride of their individual services. BUT, when emergency life and death circumstances arise, they check their egos at the door and do whatever must be done to save human life, aware of the harsh reality that one of them, like Dunnigan, may not return.
With beauty, danger, deception, and redemption, SAF3 brings blue skies and action-adventure back to broadcast television in 20 episodes of 43'.
Series Bible: Click here to download.