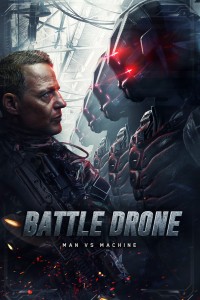 Action

Available on VOD: 5 juli 2018

Director: Mitch Gould

Cast: Louis Mandylor (My Big Fat Greek Wedding 1 & 2, One in the Chamber), Dominique Swain (Face/Off, Lolita), Michael Paré (The Philadelphia Experiment, The Lincoln Lawyer, The Virgin Suicides), Natassia Malthe (Lake Placid, Percy Jackson & the Olympians: The Lightning Thief)
In the vein of blockbusters THE EXPENDABLES and THE A-TEAM, a group of highly skilled mercenaries find themselves betrayed by the U.S. Government, and are forced to fight their way out of an ambush by a new, lethal humanoid drone. Get ready for some intense action!
Reviews
Action-flix.com: Mandylor is in true action hero mode. Battle Drone is an epic indie action blast!
Bulletproofaction.com: Battle Drone did not have the star power of The Expendables or even some of the other movies inspired by the Stallone franchise, but what Battle Drone did have was plenty of video game style action jammed into the 93 minute runtime. I thought the cast had good chemistry and the movie progressed at an entertaining pace. Battle Drone also had a satisfying ending that left the door open for Rekker and company to see more action in the future.
Filmcombatsyndicate.blogspot.nl: For Battle Drone, Gould serves a consistent, solid leading man in Mandylor along with Parè and actress Swain. It's damn good fun!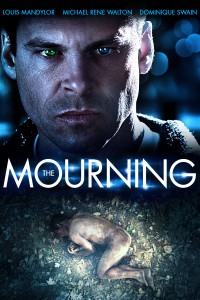 Drama, Thriller

Available on VOD: 20 april 2015

Director: Marc Clebanoff

Cast: Michael Rene Walton (20 Ft Below: The Darkness Descending), Louis Mandylor (My Big Fat Greek Wedding 1 & 2, One in the Chamber), Dominique Swain (Face/Off, Lolita), Sally McDonald
Aaron returns to his small Michigan hometown, inexplicably not having aged since his disappearance in Desert Storm 20 years prior. Unable to speak initially, Aaron must confront the evolution of his loved ones in his absence, while they come to terms with the reappearance of the boy who they let go years prior.
As Aaron assimilates himself back into the lives of his family and childhood love, it becomes apparent that his homecoming is not permanent. A conspiracy theorist determined to prove that Aaron was abducted by aliens and a mysterious metaphysical guardian help build toward a finale in which Aaron must tie up loose ends before returning to his other worldly existence.
Reviews
Filmthreat.com: In the end, you can certainly find value in the sci-fi aspects of The Mourning, but for me the real meat is in the core of a man returning after a life-altering experience. You could tell this story as is with a potential alien connection, but it would be just as valid and strong if it was simply Aaron returning after being at war. The impact and power of the piece is in the interpersonal relationships, and how those must adapt, evolve and heal.