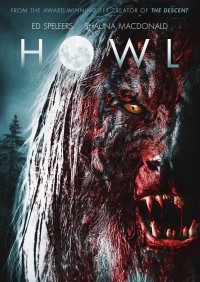 Horror

Available on VOD: 4 oktober 2016

Director: Paul Hyett

Cast: Ed Speleers (Downton Abbey, Alice Through the Looking Glass, Eragon), Shauna Macdonald (The Descent, Filth), Holly Weston (Assassin), Sean Pertwee (Gotham)
Joe, a young ticket-collector, is riding the last train out of London on a dark and stormy night along with a meager bunch of passengers. When the train brakes violently and comes to a sudden halt deep in the middle of a forest, it seems they have hit something on the line. But when the driver ventures out to investigate he never returns, leaving the passengers in a state of panic – particularly when Joe sees the driver's mutilated body outside the carriage.
Realising there's something dangerous lurking in the forest, Joe tells the passengers to make barricades to secure themselves in the carriage but soon the deadly creature is stalking the besieged train and smashing through their defences, picking them off one-by-one. Joe rallies his 'pack' of passengers to fight back. During a vicious battle they manage to kill the creature, revealing it to be a hideous mutated fusion of human and wild animal - a werewolf. However, celebrations are cut short when they hear more howls coming from the forest...
Reviews
Britflicks.com: With HOWL Director Paul Hyett keeps the drama visually interesting and entertaining despite the very contained location of a train – a long sausage of a space to work with. He also absolutely delivers on the key action sequences when the hapless passengers go toe to toe with his creature.
DerekWinnert.com: a good script, good characters and good monsters. It's well acted and well made.
Flickeringmyth.com: Howl is a brilliant example of how to get a monster movie right. Werewolf movies have been done a million times before, but Howl brings something slightly new to the table. Hardcore werewolf lovers might be upset by Nick Ostler and Mark Huckerby flagrant disregard of the rules set up by other stories, but Howl is the best werewolf horror in years.
Horrortalk.com: Like Dog Soldiers, this is more action flick and black comedy than it is straight horror, although it does get shockingly gory at times. The train is well packed with a fun cast of horror movie and public transport archetypes alike, from the slobby drunk to the Carter Burke-like asshole prepared to throw everyone else under the bus (or train) to ensure his own survival. The lively cast and sharp writing make almost everyone seem likeable and sympathetic, allowing us to care whenever one of them is knocked off or ripped up. And oh, what ripping! There's a fantastic level of splatter to the violence, particularly during one climactic encounter with a beast and its terrified would-be victims.
Thehollywoodnews.com: A tense game of hunter and prey that chugs along nicely.
Ukhorrorscene.com: Howl is a perfectly awesome addition to the British Werewolf film genre. Watch this as soon as you can!
Radiotimes.com: even those well-acquainted with the genre should find enough to enjoy in the stylish set-pieces that feature plenty of bloody action.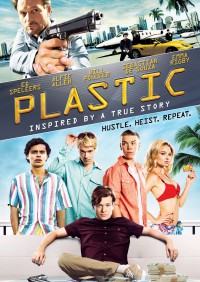 Action, Crime, Thriller

Available on VOD: 4 mei 2015

Director: Julian Gilbey

Cast: Ed Speleers (Downton Abbey, Alice Through the Looking Glass, Eragon), Will Poulter (The Revenant, We're the Millers, The Maze Runner), Alfie Allen (Game of Thrones, Atonement, John Wick), Emma Rigby (The Counselor, Once Upon a Time in Wonderland), Sebastian De Souza (The Borgias), Thomas Kretschmann (King Kong, Stalingrad, Der Untergang, Eichmann)
High octane from start to finish, PLASTIC is based on the incredible true story of a heist of one of Beverly Hills' top jewelry merchants. Brilliant college student Sam has the perfect credit card scam...until his crew robs the wrong man. Now they have two weeks to repay ruthless gangster Marcel US$2 million or they will be dead. Sam and his team devise a scheme to clear their debt by heading to Miami to poach enough cash and merchandise. But they come up short. So Sam and his gang set their sights on a daring jewelry heist that could make them hugely wealthy for life. Their plan turns sour, however, when the team members start turning on each other. Now it's up to Sam to finish the brazen heist and turn the tables on Marcel before they all go down.
Reviews
Critics.associated.com: A great action film with some genuine comedy to it, and yet another opportunity to see Alfie Allen playing a heartless backstabber, Plastic exceeds the expectations.
Entertainment.ie: Gibley, who impressed with the dark A Lonely Place To Die, does rally the troops for the final half hour.
Britflicks.com: High octane thriller PLASTIC tells the story of intelligent and brazen Sam (Ed Speleers), who leads a ring of university students to become credit card thieves in order to augment their income. When 'Plastic' ends you'll most likely scratch your head as to how such a super, fantastical crime flew below you news radar. With stick on moustaches, beards and wigs, it's like 'Catch Me If You Can' flung into the internet and mobile phone age.
Dailystar.co.uk: GREAT performances and a witty script combine to make this one of the better British crime capers of recent years. Director Julian Gilbey (A Lonely Place To Die, Rise Of The Foot Soldier) has a lot of fun with way it's set up and he has a ball with it when it's being executed.The plot, which is supposedly based on a true story but plays out like an episode of Hustle, is deliciously twisty. But it's the clever dialogue and a dastardly turn from Allen that really makes it tick.