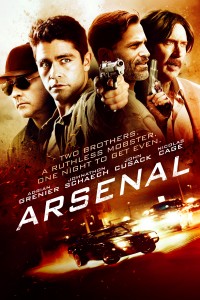 Action

Available on VOD: 16 maart 2017

Director: Steven C. Miller

Cast: Nicolas Cage (The Bad Lieutenant, Drive Angry, Leaving Las Vegas, Kick-Ass), John Cusack (2012, Drive Hard, Cell, Hot Tub Time Machine), Adrian Grenier (Entourage, The Devil Wears Prada, Marauders), Lydia Hull (Van Wilder, Escape Plan 2), Johnathon Schaech (That Thing You Do, Marauders, The Prince)
A powerful action thriller, ARSENAL tells the intertwining stories of the Lindel brothers, Mikey (Johnathon Schaech) and JP (Adrian Grenier), who had only each other to rely on growing up. As adults, JP found success as the owner of a construction company, while Mikey became a small-time mobster, mired in a life of petty crime. When Mikey is kidnapped and held for a ransom by ruthless crime boss Eddie King (Nicolas Cage), JP turns to the brothers' old pal Sal (John Cusack), a plain clothes detective for help. In order to rescue his brother, JP must risk everything and unleash his vengeance against King's relentless army of gangsters.
Reviews
Wegotthiscovered.com: The actor gives the kind of performance that awed directors let Brando give at the end of his career: one that's completely OTT.
Omenly.com: Nicolas Cage (Eddie King) throws around his nuttiness and violent yet amusing reactions in a way that keeps the audience interested.
Cutprintfilm.com: Any moment Cage is on screen here becomes hypnotic. You're drawn into every single bizarre choice the actor makes, completely uncertain of what he's going to do next. In one of the film's best scenes, Eddie's brother Buddy (Deadfall director and Cage's real-life brother Christopher Coppola) shows up to reprimand Eddie for his sloppiness. What follows is a slow-motion dance of carnage, with splashes of blood flying up into Cage's glorious mustache.
DallasFilmNow.com: Arsenal frames its relentless beatings doled out by Nicolas Cage against slow-motion effects and a melancholic hymnal of sorts.
Filmschoolrejects.com: Cage is mesmerizing whether he's talking, sobbing, hissing, or ranting - his War of the Gargantuas reference is especially endearing.
Goodefficientbutchery.blogspot.nl: Cage is here to do exactly what you expect him to do: shout, yell, scream, spaz out, and totally Cage it up.
Joblo.com: Cage's whacked-out performance is what makes ARSENAL worth checking out, with him having a blast throughout. He doesn't phone it in at all, and Cage is always fun to watch when he's in gonzo mode.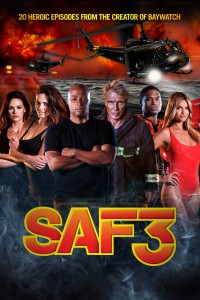 Action, Drama

Available on VOD: TBA Q3 2014

Cast: Dolph Lundgren (The Expendables 1/2, Universal Soldier, SAF3), J.R. Martinez (All My Children), Texas Battle (The Bold and the Beautiful, Dragonball Evolution, Coach Carter), Lydia Hull (Van Wilder, Escape Plan 2), Jocelyn Oscorio, Travis Burns, Katie Meehan, Danielle Anderson
Co-created by Gregory J. Bonann (Creator of Baywatch) who also serves as Executive Producer, the series follows Southern California's elite multi-agency task force, SAF3, which consists of the cream-of-the-crop from Los Angeles Lifeguard, Firefighter and Coast Guard agencies. They are the heroes who answer the most challenging calls. Specialists who collaborate, coordinate, and initiate daring rescues in the most dangerous venues (air, fire, water) to save human life.
Each episode will center on big-action rescues involving all three services lead by a reluctant leader, Lifeguard John Mathews, who has stepped in for his mentor and friend. The agency is the brainchild of Hal Dunnigan (Mathew's mentor) who dies heroically in the first episode saving a life.The inter-agency cooperative effort will not be without its challenges, but will provide for extremely dramatic personal conflict and still yield an effective and efficient public service. There is enormous competition between them as they uphold the pride of their individual services. BUT, when emergency life and death circumstances arise, they check their egos at the door and do whatever must be done to save human life, aware of the harsh reality that one of them, like Dunnigan, may not return.
With beauty, danger, deception, and redemption, SAF3 brings blue skies and action-adventure back to broadcast television in 20 episodes of 43'.
Series Bible: Click here to download.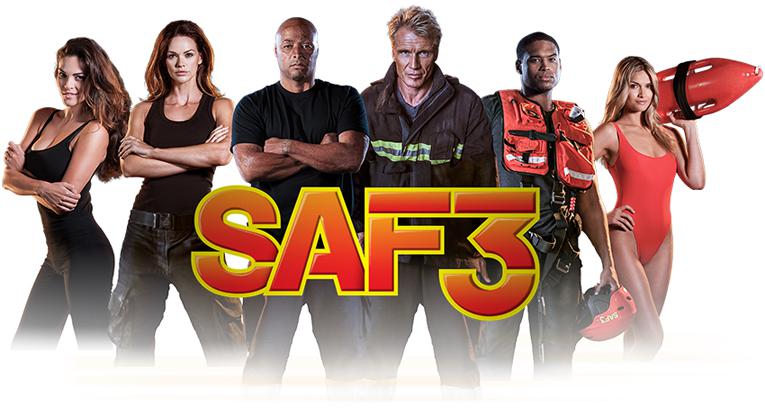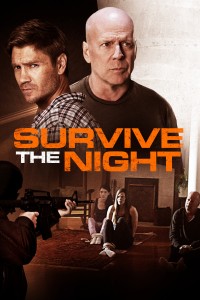 Action

Available on VOD: 6 augustus 2020

Director: Matt Eskandari

Cast: Bruce Willis (Die Hard, Red, Sixth Sense, Split), Chad Michael Murray (Left Behind, Riverdale), Lydia Hull (Van Wilder, Escape Plan 2), Shea Buckner (Escape Plan 2 and 3)
A family's raw emotions are pushed to the limit by two sibling criminals who take them hostage in the action-thriller SURVIVE THE NIGHT. As danger mounts, a patriarch (BRUCE WILLIS) fights for his home and honor; his son (CHAD MICHAEL MURRAY) seeks redemption; and a pair of murderous brothers (TYLER JON OLSON and SHEA BUCKNER) make demands that result in bloodshed and brutality. As they face off at a lonely farmhouse, the skills of one of them holds the balance between survival … and slaughter.
Reviews
Film is nog niet uitgebracht, dus nog geen reviews beschikbaar.