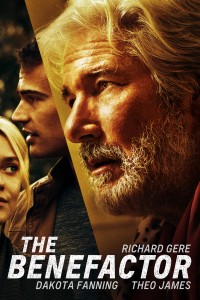 Drama

Available on VOD: 1 september 2016

Director: Andrew Renzi

Cast: Richard Gere (An Officer and a Gentleman, Pretty Woman, Arbitrage, The Second Best Exotic Marigold Hotel ), Dakota Fanning (Man on Fire, War of the Worlds, The Twilight Saga, Voor ik doodga), Theo James (The Inbetweeners Movie, Insurgent, Divergent, Underworld: Awakening)
After a hedonistic philanthropist survives a car accident that kills his married best friends, he ingratiates himself into their daughter's life in order to relieve his guilt and recreate the friendship he lost.
Reviews
WeArePublic.nl: Richard Gere is aan een renaissance bezig met een aantal bejubelde rollen op rij. In deze complexe rol gaat hij zich helemaal uitleven!
Variety: flamboyant turn by Richard Gere is the heart and soul of The Benefactor, an off-kilter character study of a Philadelphia philanthropist whose eccentricities both mask and manifest a dark side. The movie ends in a more conventional place than the one where it begins, yet it still marks a surprising and graceful first fiction feature for writer-director Andrew Renzi. There are moments of indulgence that make you wish someone would walk in from off camera and hand the actor an Oscar, just to get it over with.
Hollywoodreporter.com: Renzi's conception of the man's oncoming collapse is sharp in some ways: for instance, how both of his crutches, drugs and the assumption that generosity buys love, fail him simultaneously. (While one doubts such a rich man would have much trouble finding narcotics when his doctor cuts him off, the smarmy desperation of his attempts is one of the film's most compelling elements.) Similarly, Franny's ability to be genuinely empathetic with a frightened child despite his trouble connecting with adults rings true.
Eyeforfilm.co.uk: Richard Gere is exceptional, pulling off the flamboyant style and exuberant nature of Franny, but also managing to make him feel three dimensional. There would have been a real danger here that The Benefactor could have been written too much like a Willy Wonka style figure, friend to children and stuck in childhood intimacies, but Gere effortlessly grounds him by making him exactly the kind of larger than life character that is actually comfortably believable. His performance is stellar.
Filmfracture.com: Gere is fantastic as Franny, and he manages to steal the show time and again with his eccentricities and overzealousness. When his addiction overtakes him the anger and pain that comes through demonstrate the talent Gere possesses.
Iheardthatmoviewas.com: Richard Gere brings a performance that is wonderful yet excruciating to watch, especially for the final act of the film.
Roboapocalypse.blogspot.nl: The Benefactor is an entertaining and unusual piece of work that played extremely well on this past Friday evening at its world premiere at the Tribeca Film Festival. For fans of Gere, this is a must-see, and for people looking to "find" a director before they're big, this is also a must-see. Renzi should have a very successful career ahead of him.
Thefilmstage.com: As a fast-talking, boisterous individual with the right quip for every exchange, Gere embodies this entertaining side, but also excels in dealing with the character's darker vices. With a loneliness behind his eyes even when he's around his closest acquaintances, it's a tender performance that helps keep one invested.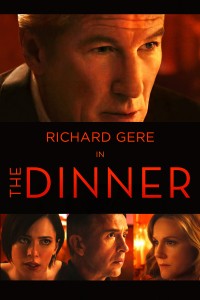 Drama, Thriller

Available on VOD: 16 augustus 2018

Director: Oren Moverman

Cast: Richard Gere (An Officer and a Gentleman, Pretty Woman, Arbitrage, The Second Best Exotic Marigold Hotel ), Steve Coogan (The Trip to Spain, The Other Guys), Laura Linney (Nocturnal Animals, Sully), Rebecca Hall (The Town, Frost/Nixon), Chloë Sevigny (Antibirth, The Snowman)
When Stan Lohman (Richard Gere), a popular congressman running for governor, invites his troubled younger brother Paul (Steve Coogan) and his wife Claire (Laura Linney) to join him and his wife Katelyn (Rebecca Hall) for dinner at one of the town's most fashionable restaurants, the stage is set for a tense night. While Stan and Paul have been estranged since childhood, their 16-year- old sons are friends, and the two of them have committed a horrible crime that has shocked the country. While their sons' identities have not yet been discovered and may never be, their parents must now decide what action to take. As the night proceeds, beliefs about the true natures of the four people at the table are upended, relationships shatter, and each person reveals just how far they are willing to go to protect those they love.
Reviews
Variety.com: Moverman balances the potential for staginess with his flowing cinematic bravura; he keeps surprising you, and he gives the drama a dash of poison elegance.
The Playlist.net: This is a film that glories in juxtaposition, as exchanges of bestial ferocity hiss back and forth in an excruciatingly elegant destination restaurant, and as poisonously feral barbs are traded across a table laden with elaborately effete hors d'oeuvres.
TheWrap.com: At once a darkly comic social satire, a pitch-black moral thriller and an earnest plea to recognize mental illness, The Dinner is a seven-layer dip overflowing with compelling individual ingredients.
Urbancinefile.com.au: All the performances are astonishing. This is an outstanding piece of cinema, provocative and insightful, filled with metaphor and the recognisable flaws of humanity and the world today, yet far from bitter.
Blu-ray.com: The film delivers on both emotional and perhaps especially moral grounds, exposing the traumas experienced by a quartet who can't even decide what the right thing to do is, let alone doing it.
TheIndependentCritic.com: The Dinner is a riveting adult drama that will have you replaying the film over and over again in your mind as you search for the meaning of it all and come face-to-face with the uncomfortable truths.
WeGotThisCovered.com: An imperfect but fascinating film, The Dinner's stellar cast delivers a deeply troubling and psychologically complex treatment of class and family.