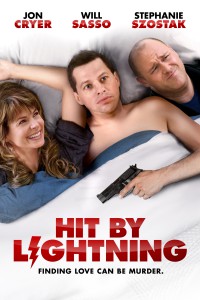 Comedy, Crime, Romantic Comedy

Available on VOD: 15 december 2015

Director: Ricky Blitt

Cast: Stephanie Szostak (Iron Man Three, We Bought a Zoo, Dinner for Schmucks), Jon Cryer (Two and a Half Men, Due Date, Stay Cool), Will Sasso (Movie 43, The Three Stooges)
RICKY MILLER a sweet 40-plus manager of a Denny's type restaurant gets his prayers answered when he joins a dating site and meets DANITA – an impossibly beautiful woman who shares all his interests. He soon learns there's just one little catch – she's married and he has to kill her evil husband. Ricky shrugs – there's always going to be SOME baggage when you're both around 40. Ricky's best friend SETH finds out her monster husband is actually an ex-Rabbi who proves to be generous and affable when they finally meet him. Ricky is torn. Is Danita telling him the truth? Or is Seth right and she's a femme fatale, like Kathleen Turner in BODY HEAT, who's playing Ricky?
Reviews
LATimes.com: An offbeat rom-com that ventures down the film-noir path, "Hit by Lightning" manages to make dark comedy fresh by combining two formulas. Cryer and Sasso have impeccable comedic call and response that never skip a beat, which makes the film a pleasure.
Blu-ray.com: Hit by Lightning features a bravely unglamorous performance from Cryer, who does away with traditional tricks of screen vanity to play Ricky as a soured, balding sad sack with no hope for a romantic future. The screenplay actually has some fun with the character's hair loss, watching Ricky trying to dye his way out of personal issues, hoping to appeal to Danita through the art of illusion. Cryer's comic timing remains sitcom-tight and his interplay with Sasso contributes to the picture's periodic highlights, creating a believable bond with this bullying best friend.
Wlswarts.blogspot.nl: If one was going to cast a weak-willed patsy character, Jon Cryer is as good a choice as you can get and he delivers exactly that performance.