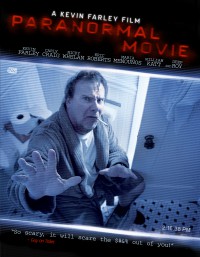 Comedy

Available on VOD: 1 maart 2014

Director: Kevin P. Farley

Cast: Tom Sizemore (Pearl Harbor), Kevin P. Farley, Nicky Whelan (Hall Pass, Neighbours), Eric Roberts (The Dark Knight), Carly Craig (The Three Stooges), Kevin Sorbo (Hercules, Meet the Spartans), Jake Busey (Lethal Weapon, Starship Troopers)
Life for Larry (Kevin Farley) has always been a little weird, but things get really strange when spooky disturbances start waking him up each night. To catch the poltergeists in action, Larry sets up dozens of video cameras and quickly discovers that his house is infested with freaky clowns, weed-smoking demons and uninvited celebrities! He tries everything he can think of to ward off the evil spirits, including calling in TV's Demon Hunter, Jack Goff (John Farley), psychologist Dr. Luni (Maria Menounos) and famous 'psychic' Dr. Lipschitz (Eric Roberts). As outrageous as it is hilarious, Paranormal Movie is the creepy new comedy that gives 'found footage' movies exactly what they deserve!