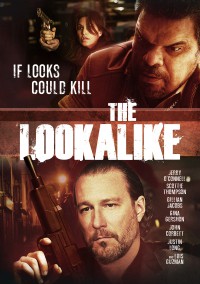 Misdaad, Thriller

Beschikbaar voor VOD: 12 augustus 2014

Regie: Richard Gray

Cast: Luis Guzmán (The Last Stand, The Taking of Pelham 1 2 3, Anger Management ), Gillian Jacobs (Hot Tub Time Machine 2, Seeking a Friend for the End of the World), Scottie Thompson (Star Trek: The Future Begins, Skyline, NCIS), Jerry O'Connell (Veronica Mars, Scary Movie 5, Jerry Maguire), Gina Gershon (Killer Joe, P.S. I Love You, Showgirls, Inconceivable), Justin Long (Live Free or Die Hard, Drag Me to Hell, He's Just Not That Into You), John Corbett (Northern Exposure, Sex and the City 2, United States of Tara)
Drugsbaron William Spinks koestert een bizarre fascinatie voor de mooie Sadie Hill en hij gebruikt Bobby en Frank, twee bevriende gangsters, om haar te benaderen. Wanneer Sadie plots vermoord wordt, dreigt hun lucratieve deal echter in het water te vallen. Voor de criminelen zit er niets anders op dan een vrouw te vinden die als twee druppels water op Sadie lijkt... voor Spinks erachter komt. Ze besluiten Holt en Joe Mulligan in te schakelen, twee broers die bij hen in het krijt staan, maar niet echt voor de misdaad geschikt zijn.
Voor deze sexy misdaadthriller vol plotwendingen en zwarte humor trommelde regisseur Richard Gray een cast op voor fijnproevers van gangsterfilms: John Corbett (Sex and the City 2), Justin Long (Live Free or Die Hard), Gina Gershon (Showgirls), Jerry O'Connell (Jerry Maguire), Gillian Jacobs (Hot Tub Time Machine 2), Luis Guzmán (The Last Stand) en Steven Bauer (Scarface).
Reviews
1nfluxmagazine.com: Director Richard Gray has outdone himself with his latest effort, with no small thanks to scriptwriter Michele Davis-Gray. And backed by such a strong and experienced cast, it's no surprise The Lookalike turned out so entertaining. It was good seeing the prolific John Savage and Scarface co-star Steven Bauer back on form. Another reason I had such a fun time with this somewhat busy film, was down to the fact everyone knew not to take anything too seriously and simply enjoy the ride, as I suggest you also do. Highly entertaining!
Cinemadeviant.com: complex, full of suspense and had plenty of thrills with a great group of actors.