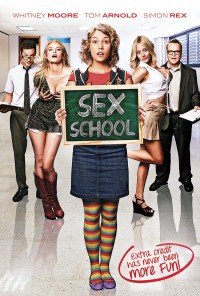 Komedie

Beschikbaar voor VOD: 8 juni 2015

Regie: Andrew Drazek

Cast: Whitney Moore (A Horrible Way to Die), Tom Arnold (True Lies, Madea's Witness Protection, Roseanne), Simon Rex (Scary Movie 3 & 4)
Wanneer de leerlingen van Peebody High betrokken raken bij een reeks seksueel-getinte incidentjes, ziet directeur Adam Hyman (TOM ARNOLD - True Lies, Roseanne) zich gedwongen om de zwaarste gevallen aan een verplichte cursus seksuele opvoeding te onderwerpen. Laci Cox (WHITNEY MOORE - A Horrible Way to Die), een jonge en mooie, maar pijnlijk naïeve lerares, valt de dubieuze eer te beurt om dit zootje ongeregeld over de "ins & outs" van een gezond seksleven te briefen. Helaas is Laci zelf nog hopeloos maagd en blijkt haar vakkennis op zijn zachtst gezegd bizar. Om haar sexpertise bij te vijlen, verkent ze onontgonnen terrein en begint ze een romance met de flirterige bibliothecaris, Mike (SIMON REX - Scary Movie 3 & 4). Maar of dàt volstaat om een klas vol oversekste leerlingen aan haar lippen te laten hangen, valt nog te bezien...
Je bent nooit te oud om bij te leren in deze hilarisch hete highschoolcomedy!